Recipe: Yummy Broccoli wild rice casserole
Broccoli wild rice casserole. This is the best broccoli rice casserole you will ever eat! Once it was melted, I took the casserole dish out of the oven, stirred the contents until well mixed and added the rice, broccoli, and chopped onion. This broccoli cheese wild rice casserole is all about comfort food!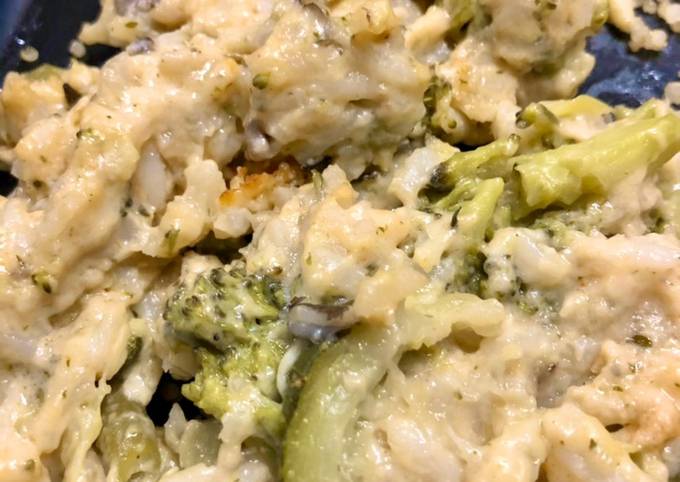 I wanted to use wild rice for this casserole because it's hearty and slightly chewy and holds up really. "Google 'broccoli casserole' and make the first recipe you find," he challenged. "I guarantee it will be disappointing." Lacking warm memories that would anchor my plans to the original iteration of the dish, I instead made this, a wild rice casserole with broccoli and, yes, cheddar cheese sauce. A healthy casserole the whole family will love! Stir in chicken and cooked rice. You can cook Broccoli wild rice casserole using 10 ingredients and 7 steps. Here is how you cook that.
Ingredients of Broccoli wild rice casserole
You need 2 (10 oz) of packages of frozen broccoli.
You need 1 package of wild rice (like near east or ricearoni).
It's 2 cans of cream of mushroom soup.
Prepare 1-1/4 c of water.
Prepare 16 oz of shredded cheese mix (mozzarella, cheddar, jack or similar).
It's 1 tbsp of butter.
It's 1/2 of an onion, chopped.
Prepare 2 cloves of minced garlic.
It's of Seasoning salt to taste.
Prepare of Pepper to taste.
Turn into casserole or baking dish.
Broccoli wild rice casserole instructions
Preheat oven to 350 degrees..
Heat broccoli, onion & garlic in pot until cooked through. Drain any excess liquid..
Cook wild rice according to package directions..
In medium saucepan over low heat, mix cream of mushroom soup and water until combined. Slowly add cheese until melted (be careful not to burn cheese). Add seasoning salt & pepper and stir until combined..
In large mixing bowl, combine broccoli, rice and soup/cheese mixture. Pour into lightly greased 9x13 baking dish..
Bake in preheated oven for 45 minutes until bubbly and lightly browned..
All done! Enjoy 😊.